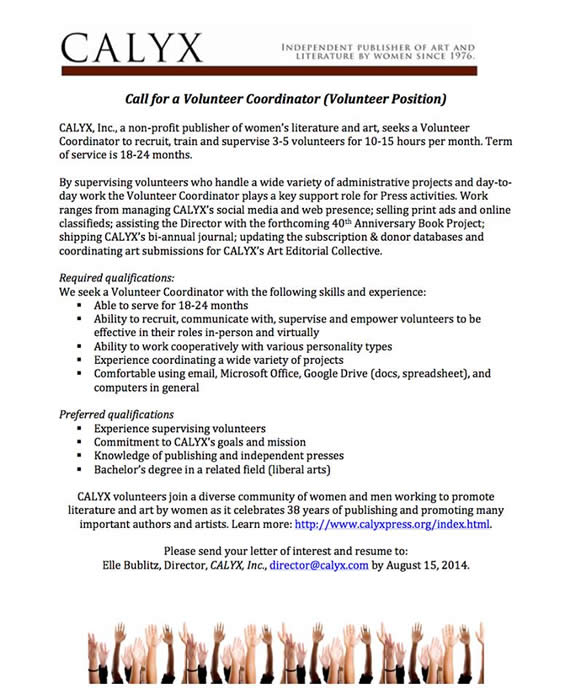 Internships
Internship opportunities are available throughout the year for both students and those looking to explore the world of publishing. With a CALYX internship, you will gain hands on experience with all aspects of small press publishing while working in a supportive and collaborative learning environment.
Strong applicants will have an interest in small press publishing, the ability to work both cooperatively and independently, strong written communication skills, familiarity with Microsoft Office Suite, strong organizational skills, and a keen eye for detail. Skills or interest in graphic design and/or new media is encouraged.
An ideal candidate will also be committed to the feminist ideals expressed at CALYX Journal.
Application: Please a email resume with references and a cover letter explaining your interest in working for CALYX to director@calyxpress.org
Interns are asked to work 10-15 hours per week with flexible scheduling. College or graduate credit may be available for those who qualify.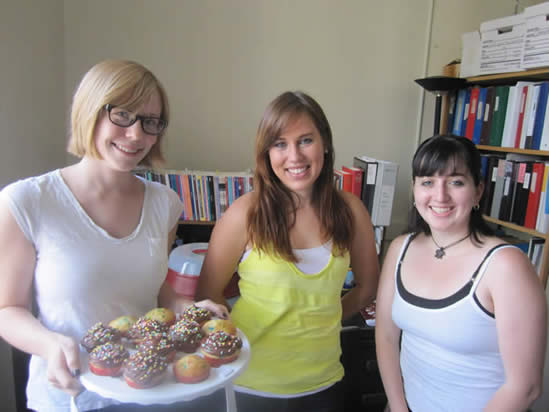 Summer 2011 interns Mara Pottersmith, Marissa Dubay, and Paige O'Rourke
Here's what some interns have said about their time spent at CALYX:
"It has been my great pleasure to intern with CALYX at a pivotal moment in its history. Margarita has kept the cultural momentum behind this small independent press for nearly thirty-five years and she leaves it under the guidance of a new generation of talented young feminists. I am honored to have witnessed Margarita's mentorship during this period of transition and benefitted from her wisdom and understanding of the challenges facing small presses for the foreseeable future. In a time of stressed budgets, dwindling resources, and market domination by conglomerate publishers, the women of CALYX continue the important work of supporting women's voices and creative vision. I am grateful to Margarita, Beverly, Kelsey, and Becky for allowing me to share in this effort and to learn from their individual talents and collective energies."
-Nancy Barbour, Fall 2010 intern from Oregon State University (Women's Studies Graduate Program)
Director Kelsey Connell with Summer 2010 intern Meghann Rhynard-Geil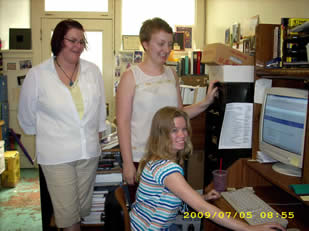 Laura Admire, Elise Filka, and Kathleen Hurst (Summer 2009)
"My internship at CALYX has truly been an enriching and unique experience. Beverly and Margarita are amazing; it is so unreal to see all that goes into independent journal and book publishing. I remember one of my first days when I was doing "phonathon" calling, and after I hung up the phone on a particular call Margarita laughed and said, "You do know who you were just talking to, don't you?" It was the famous writer, Chitra Divakaruni. My project working on the bookstore readings was an interesting experience as well. Independent bookstores, like independent presses, help feed our souls. The writers I was in contact with were very helpful and kind, and I think that CALYX authors are not only good writers, but also good people. You feel rewarded from doing simple day-to-day tasks, just because you know that it is benefiting a good cause. Exciting things seemed to happen almost everyday, no matter how infinitesimal, like when I found Sherman Alexie's address or when I sent out the press release I helped work on to NPR. It was so exciting to be here when we all found out that CALYX was receiving the grant from the National Endowment for the Arts. I will surely miss the little rooms around the office and the enticing aura of the books, written by so many fearlessly empowered women."
-Elise Filka, Summer 2009 intern from Hope College, Holland, MI
"Interning this past spring at CALYX was an invaluable experience. As an avid supporter of art and literature by women, I felt at home at CALYX. I feel blessed to have been given the opportunity to see how a publishing firm functions, as well as seeing all the work it takes to keep a nonprofit organization running. CALYX's process for selecting works to publish is long and complex, and I now have a better understanding of this detailed process. My favorite part of working at CALYX, besides my lovely co-workers, was compiling and helping edit two sections of Journal 25.2. I felt this really improved my writing technique and editing skills. This truly was a unique opportunity. Thank you, CALYX!"
-Megan Sauter, Spring 2009 intern from Oregon State University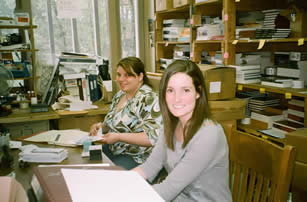 Christina Sims (left) and Megan Sauter (Spring 2009)
"Working at CALYX has helped give me an insight to what goes on in the publishing world. Beverly and Margarita are full of wisdom and knowledge that they are more than willing to share with you if you just ask. By interning at CALYX it allows you to begin to see how a publishing house operates and gives you more hand-on opportunities than if you interned at a larger publishing house. It was a wonderful learning experience, and I highly recommend working with these two amazing women for anyone interested in knowing more about the publishing world."
-Calandra Frederick, Fall 2008 intern from Oregon State University
"Having grown up a single-child to a single-mother, surrounded by my mother's girlfriends and sisters of her days in the '60s and '70s, I have always felt a deep connection with women. I accidentally applied for the internship position—interested in publishing, but with few resources for an internship in Oregon, I pounced on the first opportunity I found without knowing the background of the organization.

"At first I felt extremely nervous, afraid I would be unable to fit-in in a self-proclaimed feminist journal, but after my first drive to Corvallis from Eugene to visit the home of CALYX, and after meeting Beverly and Margarita, I felt immediate comfort, and knew that CALYX would be a great place to learn about the publishing industry. I found a wealth of great and interesting people through the doors of CALYX, and am pleased to have worked with them."
-David Sky, Spring 2008 intern from the University of Oregon
"It is difficult for me to express the breadth of knowledge which was imparted to me during my summer internship at CALYX. I was presented with numerous opportunities to see the way the publishing industry really works, and even more important, was given a chance to actually interact with the publishers, authors, and booksellers that make up the heart of the publishing world. I cannot say enough for the support of the diverse 'CALYX family' who made me feel instantly comfortable through their kind words and easy friendship. I even got the chance to dine with a few excellent CALYX authors following a reading at Powell's Books! The experiences and friends that I acquired during the course of my internship will forever treasured. And the best part of the whole thing is that it was actually fun! The workplace was always warm and filled with good humor, and it was an honor to be able to discuss literature and feminism with wise women who are truly passionate about their work. Thank you so much, Margarita and Beverly, for providing me with the amazing chance to spend some time within the creative walls of CALYX Press."
-Nora Burmeister, Summer 2008 intern from the University of Oregon
"At first, I was pretty intimidated by the idea of interning at a press. I imagined a lot of corporate go-getters rolling their eyes at me for not knowing what to do, but instead I was welcomed and made one of the family here. I didn't get bombarded with mundane tasks, either. I was given a lot of responsibility but with the knowledge that someone would always be around to answer my silly questions. One of the most important things I learned was that although the majority of what makes up the publishing industry is increasingly closing doors on so many talented writers, the heart and passion found in smaller presses like CALYX is what is keeping the writers and the industry going. The internship and the women at CALYX taught me so much about the publishing world, from sending and receiving mail and making copies to editing manuscripts and organizing readings with authors. It was so much more than just business though because everyone here has so much to offer and does so every day. I appreciated so much how personal CALYX was – this really makes it a great place to intern."
-Lydia Rava, Summer 2008 intern from Oregon State University
"I love small presses, and I am grateful to CALYX for the opportunity to have been involved with the behind-the-scenes work—the daily processes and inner workings that keep a small nonprofit press running. I valued the role I played in assisting the strong and enduring women at Calyx—Margarita, Beverly, Karen, and the members of the board—who are the backbone of a much larger literary community. My experience at CALYX was a rewarding and adventurous one. My responsibilities varied from day to day. Mail (the receiving and sending of it) comprised a great part of what I did at CALYX. This most elemental aspect of literary journals is one of its most uplifting and rewarding. To sort the pounds and pounds of incoming mail and to stuff and seal hundreds of letters or journals to send to donors or subscribers, is to hold the materialization of a wonderful network of writers and readers that spiderwebs across the country and extends across the ocean. Other responsibilities included continuing the work of previous interns: solidifying the last few dates of the most recent reading tour and keeping up with the feedback project. Some of the most memorable days were the days I got to sit in on editorial meetings: to be privy to the deliberate and thoughtful copyediting of poetry and reviews, or the creative energy that goes into the pagination of an issue. Margarita and Beverly are beautiful, generous and hardworking women who are both wonderful resources and whose passion and persistence in keeping CALYX alive and kicking have proven to be an invaluable inspiration to me. Thank you, Beverly and Margarita, and fellow interns for the stories and the pizza, the books and the good-times."
-Hajara Quinn, Fall 2007 intern from the University of Oregon
"My summer at CALYX – I spent a great deal of time in one of my favorite environments: among books and new, fascinating individuals. Over the course of three months working with the editors and the other interns, I delighted in becoming a part of the operations at CALYX, from receiving manuscripts and observing the editorial process to anticipating and promoting the final copies of a book or journal (I even came to appreciate all the necessary paper shuffling and copy-making in between). CALYX was a fine introduction to the complexities of the publishing industry. It seems exceptional to spend every day so closely with a founding member and senior editor and then, to hear their personal stories of experience, not only in publication but as young women looking to engage the world in new and remarkable ways, much as I am now. Listening to their anecdotes from the past three decades and also, reading from Marieke Steuben's thoughtful history of CALYX, my esteem grew for the work and the vision brought to fruition by a number of passionate individuals. I'm so proud to have participated in the legacy!"
-Hannah Kingrey, Summer 2007 intern from the University of Oregon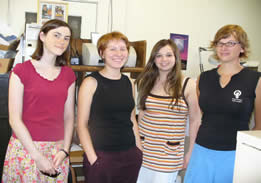 Carrie Clark, Hannah Kingrey, Sara Dier, and Lydia Parr (Summer 2007)

"At CALYX I had a feeling of being in another culture – one populated mostly with women who, unlike myself, had experienced the second wave of feminism and had shaped their lives' work under its influence. But if, in my role as anthropologist, I sometimes felt like the observer who keeps quiet in one corner of the room, just as often I felt like the participant who welcomes new
objects and customs as a part of herself. When I heard the editors discuss the poets in their care as developing voices; when I saw the stacks of novel manuscripts Margarita brought to the office from her home; whenever I stole a few minutes for myself in the manuscript room to peek at recent submissions; and once when I sent a subscription notice to a poet I had studied in high
school – I knew that in this place I'd found a sort of kin."
-Carrie Clark, Summer 2007 Intern from Williams College, MA
"Interning at Calyx was a tremendous experience. I loved getting to work so closely with manuscripts and the editorial collective. The times I was able to participate in editorial meetings were so interesting and made me feel that the poetry and stories which had been labored over were really given a fair shot. So much thought is put into selecting pieces, even down to the order in which they appear in the Journal. The kind of care these works are given is something I believe is truly unique in the competitive world of publishing. Calyx does a great job of picking thoughtful and creative pieces and giving authors a chance to have their voices heard. Of the internships I have had at other publications, Calyx proved to be both the most rewarding and most educational. I was able to work closely with manuscript selection and editing, author correspondence, and even marketing and advertising at Calyx. The editors invited my interest and helped me get a much better idea about what the world of ifndependent publishing is aol about and how it works, down to the nitty-gritty details of grant proposals and order shipping. Most enjoyable of all, it was great to work in an environment so rich in creativity and support for women's writing and art. I am proud to have worked with such talented women and to have been able to bring some of Calyx back to North Carolina, where I hope its legacy will only grow."
-Erin Alyse Barr, Winter/Spring 2007 intern from University of North Carolina
"Your time spent at CALYX will be a memorable first step into the intriguing world of publishing. When you first begin at CALYX you are allowed to take the front seat of a small, non-profit press right away. You will become an essential member of the small, close-knit CALYX staff, and as such you will share in the joys and outcome of your particular project. One of the most absorbing aspects of CALYX is getting to know the CALYX staff; dedicated ladies who through intelligence, hard work, and skill publish the best women's literature in the Northwest. From your internship, you will gain knowledge and abilities you need to become successful in the publishing field. For those who love fine literature and want a future in publishing, CALYX is ideal."
-Wendy Clark, Fall 2006 Intern from Linfield College, OR
"Interning at CALYX was like getting a free backstage pass to the world of publishing.
Every day that I walked into those offices I would discover some new aspect of what it
takes to run a small publishing company, whether it was how crucial donations are to
keeping the company alive, or how difficult it can be to get a bookstore to call you
back. I relished the amount of independence and responsibility that I was given as I
scheduled a book tour and wrote a press release for the journal, among other tasks. I was
also allowed to attend editorial meetings, which was an exciting chance to observe how
the material for the journal is chosen. In the end, though, it was the people I worked
with and met through the internship that made it worthwhile. I was constantly thanked for
completing even the smallest tasks, and I truly felt that what I was doing for CALYX was
important, even if I was only making copies. Everyone who is a part of CALYX is extremely dedicated to producing quality books and journals, and I am so grateful to have been a part of it."
–Erin Salvi, Summer 2006 Intern from Whitman College, WA
"I grew up in a literary household, and throughout my childhood the praise and stories I heard about CALYX bordered on legendary. My first experience of being in the CALYX offices is from when I was seven, and although my memory of the space itself is vague, the vitality and enthusiasm inside it left a strong impression on me. When I decided to apply for an internship at CALYX, I had very high expectations about what the experience would be like. But my experience surpassed all my expectations—the women at CALYX instantly made me feel welcomed into the CALYX family, and I learned more about the literary world, editing, and the publishing process than I ever imagined I'd know. I enjoyed the whole range of experiences my internship included—from opening the mountains of manuscripts submitted to CALYX by women from all over the country and globe, to working on scheduling a reading tour for the author of Storytelling in Cambodia, to sitting in on copy-editing meetings and art editorial meetings, to helping Margarita at PNBA and getting more free books than I could carry. I am endlessly grateful to have been so welcomed at CALYX, and after having worked at CALYX for three months, I am even more impressed by CALYX's ongoing commitment to supporting and celebrating women's literature and art."
-Tessa Fisher, Fall 2006 Intern, UC Berkeley
"I knew very little about the publishing world before I began my internship with CALYX. I still remember the amused looks I received my first day when I asked what a SASE was. Interning at CALYX has educated me on so many levels, not only about how a small press is run and all the work that goes into producing just one journal, but also about how I should present my own work if I chose to do so. I appreciated seeing the care and respect with which each manuscript is handled at CALYX and was floored at the amount of work that comes in from aspiring female poets, writers, and artists from all over the US and abroad. The biggest obstacle I had to overcome while an intern was trying not to get too engrossed in the literature I had to deal with on a daily basis. It was extremely encouraging and inspirational to see how a small group of women, together with the help of a handful of volunteers and interns, could put together a quality journal such as CALYX. The staff was always helpful and eager to answer any questions I had. They even let me steal a box full of used manila envelopes to make a gown for a recycled fashion show on campus. I came away from this internship with a lot more than a few internship credits to plump up my resume. I came away with an insight into a world I had not previously had the opportunity to be exposed to."
-Krisja Lorenson, Intern for Winter and Spring 2006 from Oregon State University
Krisja Lorenson wearing a dress made from CALYX shipping envelopes
for the OSU Recycled Fashion Show.
"In my internship at CALYX, I was given the opportunity to see firsthand everything that goes into running an independent, non-profit press. It is much more involved than I ever guessed. It seemed that almost every day I worked, I learned of another small yet essential detail of independent publishing, from sending out bulk mailings, to copying certain poems for the editorial board, to entering books for review and into the database. I felt lucky to be working for a press that publishes such good writing, and was so glad to be given exposure to literature that I had not been acquainted with before. I felt both needed and appreciated, and was happy that my contribution seemed so vital to the organization."
-Daniela Uslan, Summer 2005 intern from Hampshire College, MA
"My first day at CALYX left the greatest impression on me. Not really knowing what I was doing, I sorted through the mail. Immediately I became completely absorbed in submission after submission—women from all over the country, from all walks of life submitting their work, their words in hopes of being published. I realized then how unique and important CALYX is for giving women an opportunity to have their voices heard."
-Sarin Spehar, Spring 1998 intern
"Interning for CALYX has been an extremely educational (and inspiring) experience...in four months' time I learned a great deal about how a small press operates, as well as how other writers present their work to a potential publisher. Now I know why CALYX is such a fine journal—the people who create each issue do so with both love and skill."
-Beth Fox, Winter 1999 intern from the University of Oregon
"Such beauty and strength that CALYX brings to this crazy, crazy world. It was a great honor for me to watch the process and be a part of it."
-Danielle Devore, Winter and Spring 1997 intern
"Working at a small press gave me a much broader view of publishing than I would have gotten anywhere else. I was able to be involved in all aspects of the journal, from promotional things like organizing readings and writing press releases to the everyday things, like sorting the mail. My internship at CALYX gave me an opportunity to see how the editorial and business sides of a publisher interact--up close. I'm grateful for the chance I had to broaden my understanding of the world I'll be going into after graduation. You've taught me so much. Thank you for being such patient, dedicated women."
-Samanatha Hudson, Winter 2005 intern from Oregon State University
"I had hoped for something nice to add to my resume when I applied for an internship at CALYX. I thought I would learn the basic operations of a small publishing company and maybe gain a new skill or two. How was I supposed to know that I would come away with much more?
By far, the best aspect of a CALYX internship is the opportunity to read manuscripts by women from all over the world. I read of the woman who lost her temper with her child and thought, 'Will that be me?' I read of one woman's wish for one more day with her deceased mother and I thought,'I could have written that.' I read painful memories of old relationships and I thought, I remember being there.' I read through manuscripts and fought back tears and thought, 'Thank you for saying what I have felt.'
This internship did teach me about the inner workings of a small publishing company and I do have a nice addition to my resume. More importantly, though, I came away with a sense of belonging in a community of women I have not met. Their stories are all of our stories and I am grateful for this experience in ways I cannot express."
-Darci Spangler, Fall 2004 intern, Linn Benton Community College, OR
"Just like always, on my first day at CALYX, I worried that I would be late or inappropriately dressed. But, as I sat in my car, watching the door nervously for twenty minutes after I was told to arrive, I realized that this job would be more relaxed than my former stints. Micki moseyed through the door at 10:20 with an iced coffee in hand, and I knew that despite the hour and a drive from Portland each day, I would enjoy this job. That is, until I was asked to sort through the chaos that is the 'Going Home Reading Binders.'
This pair of binders was the bane of my existence for my first two weeks of summer until I realized that most of what they contained was easily disregarded and interpreted the way I desired. To sort through them I used a reader response analysis--what will I do with a literature major, indeed.
Like my first lessons, CALYX has taught me that in a job situation, it is acceptable, even commendable to use your instincts to creatively complete projects. As well, I learned that stuffing evelopes is a meditative experience; the rhythmic stamping and folding can slow the rushing hours. Thank you to everyone at CALYX who helped me learn these fine lessons. I have thoroughly enjoyed my time there and look forward to reading my free books."
-Jennifer Danner, Summer 2004 intern from Willamette University, OR
"Working as an intern for CALYX was a wonderful experience, which I've only come to appreciate more as time goes on. Throughout my time there in the spring of 2004 I was consistently impressed by the quality of the journal being produced; my lunch breaks were invariably spent with my sandwich in one hand and a copy of some back issue in the other. I was both pleased and honored to be a part (even a small part!) of the creative process that resulted in such fine work. Processing the submissions held for consideration, and even sending out reject letters, gave me an excellent overview of the range of work submitted to the journal every year. The time I spent sitting in on editorial meetings afforded me an intimate glimpse into the second stage of the selection process, and I was fascinated to hear (and take notes on) the biting critiques and impassioned defenses of the poems under consideration. This internship also showed me the hard work that goes into keeping a non-profit organization afloat: the grant-writing, the publicity, the appeals to supporters for donations. CALYX is certainly worthy of all the support it gets, and then some! I intend to remain a supporter, and I hope to explore further opportunities in non-profit publishing in the future."
-Jamie Woelfel, Winter and Spring 2004 intern, Willamette University, OR
"Coming to CALYX has been an awakening for me on multiple levels. I got to form part of the community of women who work, laugh, gripe, and give their souls to produce some of the most powerful yet poignant literature and art available. The women at CALYX in their mission to matronize the arts have done more than that--they have given a voice to so many silenced and marginalized women. Their work is bold, fearless, and groundbreaking. I can try my hardest but cannot come close to describe what it feels like to work alongside these incredible women all connected to CALYX. I can say, however, that I am proud to support this small, independent press in their incredible efforts to celebrate art, literature, and women."
-Abby Phillips, Winter 2003 intern, Oregon State University
"I spent my summer in a cramped, dusty, second-floor office with a dial-up Internet connection, no A/C, and hundreds of books. I did not get paid, and I wouldn't trade those four months for anything. During my time at CALYX, I realized yes, I DO want to work in publishing. I found out yes, an intern CAN be respected. I discovered yes, Noah's makes the best six-cheese bagels within walking distance. I ascertained bookstore event planners want events, but don't like to return phone calls. And I learned that it's nice knowing everyone in the office. Most of all, I learned that the reward that comes from doing what you love is more important than a huge paycheck. Now I have to try to explain that concept to my mother, who still seems to believe taking my English degree and going to medical school is somehow a good idea ... ."
-Jen Christiansen, Summer 2003 intern from Western Oregon University
"While at CALYX I worked on copy-edit transfers, bulk mails, and return and acceptance letters. I also wrote a grant proposal requesting funding for production and promotion costs for the anthology, A Fierce Brightness, as well as a press release for the Lois Cranston Memorial Poetry Prize. I feel like this internship was beneficial to me because I learned a lot of the basics of publishing. I entered into this internship knowing nothing and am leaving with a lot of beneficial knowledge for a possible future career in the publishing industry. The staff here is wonderful, helpful, and willing to teach and I am grateful to them for this experience. I wish the best for CALYX."
-Landry Grow, Spring 2002 intern from Oregon State University
"I had a very nice experience at CALYX during my three-month internship. Mostly, I took care of mailing, rejects, holds, and filing. I learned a lot about the process of publishing books from these works. When I took care of mailings, I was amazed that so many people desired to be a writer. Also, it was a good experience to learn proof reading for me because it helped to improve my English. I really appreciate the experience I have gained at CALYX."
-Masumi Asai, Spring 2001 intern from Western Oregon University