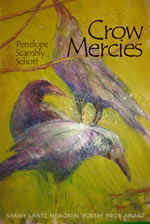 Crow Mercies
by Penelope Scambly Schott
Winner of the Sarah Lantz Memorial Poetry Prize
Reviews:
"Penelope Scambly Schott's Crow Mercies celebrates the naming of small things in order to know basic truths. An accumulative momentum rises out of the mercy of an attentive eye: not for gazing at the surface of things but looking into the heart of what matters, what keeps us fully engaged as humans. There are no shortcuts in Crow Mercies." —Yusef Komunyakaa, author of Warhorses: Poems (Farrar, Straus and Giroux) and winner of the 1994 Pulitzer Prize in Poetry
"There's a knife sharpener in California who ends his notes 'Stay sharp and shiny.' This is what Penelope Schott does with words, images, stories, memories—sharp! shiny!—she is not afraid to startle or jolt. A reader feels electrified." —Naomi Shihab Nye, author of Honeybee: Poems & Short Prose (Greenwillow Books)
"Penelope Schott's poems, like shields of hammered copper, stand between a speaker (speaking by turns fierce and tender) and a listening grandson, mother, husband, bear-husband, butterfly sipping from their common cup. … Entering your life, these poems will be invited to stay, even as you feed them, generously one by one, to friends and strangers, but keep the very best close with your secrets." —Kim Stafford, author of The Muses Among Us: Eloquent Listening and Other Pleasures of the Writer's Craft (University of Georgia Press)
"To the primarily narrative tradition of Northwest poetry, poet Penelope Scambly Schott brings a surreal poetry of a rich, inventive imagination. In many poems of Crow Mercies, the unique imagery leaps out as if it has a life of its own, while, at the same time, feeling integrated, indeed essential, to the poem. …" —Peter Sears, author of Green Diver (C.W. Books)
"To read these poems is to fall in love (again) with poetry. What the poet says to the lover is offered here to us.... Truly we are fed, surprised, delighted, caused to laugh and to weep in the world that Penelope Scambly Schott brings home to us in Crow Mercies. … She is a master of language." —Pat Schneider, author of Writing Alone and With Others (Oxford University Press)
Online Reviews:
Claire Keyes: www.fieralingue.it
Stefanie Hollmichel: somanybooksblog.com
Lesley Kartali: www.elevatedifference.com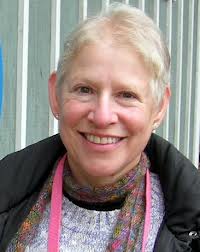 Penelope Scambly Schott has published three poetry narratives, four poetry collections, and five chapbooks, including Six Lips (2010). She has received a Hopwood Award, a Lannan Foundation Fellowship, a Poetry Society of America prize, and four fellowships from the New Jersey Council for the Arts. A is for Anne: Mistress Hutchison Disturbs the Commonwealth received the 2008 Oregon Book Award for Poetry. She has a PhD in late Medieval English literature from City University of New York.