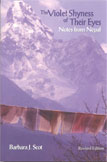 The Violet Shyness of Their Eyes: Notes from Nepal
(Revised edition, 2005)
by Barbara J. Scot
Pacfic Northwest Bookseller Award Winner
The Violet Shyness of Their Eyes: Notes from Nepal, winner of the Pacific Northwest Booksellers Award, is a moving memoir of a western woman's transformative sojourn in Nepal. Scot's vivid account of living, teaching, and trekking in Nepal demonstrated insight into cultural difference while confronting the complex issues of development work and the status of Nepali women. In 2004, Scot returned to Nepal, and in this new edition she records her reactions to the changes the country experienced in the last decade, particularly the current political unrest and the effects on the country of a Maoist insurgency. Scot looks back on her original experience in Nepal and its impact on her life, and reacts to the differences she observed during her recent journey. Contains 55 photographs.
Reviews:
"The original edition of this radiant memoir came out in 1994. It won some literary awards and became an underground classic…. This new edition includes material on the changes she found and the ways in which Nepal has altered her life. It is a graceful, transcendent work." —Statesman Journal
"A heartfelt portrait of the Nepalese people and culture…. An excellent memoirist, Scot combines personal observation, thoughtful commentary and warmth in this deceptively simple book." —Longitude
"Scot's year in Nepal was extraordinary. What she discovered about herself, about Nepal and the Nepalis themselves is beautifully told." —The Seattle Times
"Poignant and profound…. While Scot never sugarcoats the hardships, she fulfills two of the travel writer's most important tasks: evoking a deep sense of place and instilling in readers a desire to go there." —Booklist
"Scot gives us the Nepal she saw, touched, visited with a feminist's respect for difference. Hers is a tale of sharing, and we are privileged to see through her eyes, understand through her exquisite sensibility." —Margaret Randall
"The sheer beauty of Scot's writing … real insight, balance and compassion,… worth reading for people who are already fascinated with Nepal, as well as for people who know nothing of the region." —NeedCoffee.com
"Her beautiful descriptions of mountains, temples, bird life, and – most important – Nepalis, their customs and words, make a rich soup to feed our imagination." —Elliot Bay Booknotes
Barbara Scot is an avid climber, hiker, and naturalist. She is the author of Prairie Reunion (Farrar, Strauss & Giroux) that received a NY Times Notable Book citation, and The Stations of Still Creek (Sierra Club Books). She lives on a houseboat near Portland (OR).