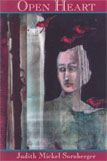 Open Heart
by Judith Mickel Sornberger
The experience of growing up on the plains of Nebraska informs the sensibility and language of this moving collection of poetry.
Reviews:
"This warmly loving book is hard to put down and hard to forget. Sornberger is a poet to watch." —Library Journal
"The title poem exemplifies some of Sornberger's strengths: a clear, emotional voice; unique but graceful metaphoric choices; an engaging theme of family connections and heritage." —Booklist
"The poet's control of forms holds her readers in place while Sornberger steals, retells, and resignifies women's stories." —Hilda Raz, editor of Prairie Schooner
"What an openness to life and its teachings, what an openness to the being of others, so that somehow they come pulsingly alive; what deep-won comprehension over years has gone into creating these poems. Truly they are titled Open Heart…struggling to illuminate for us the tangled bonds of family and love, what binds each to each, the memorable in the perishable, the marks of time's passing, and the dear significance in the everyday." —Tillie Olsen
Judith Mickel Sornberger's poetry is widely published and is anthologized in Mother to Daughter/Daughter to Mother (Feminist Press) and Sexual Harassment: Women Speak Out (The Crossing Press). She is an associate professor of English at Mansfield University, Pennsylvania.