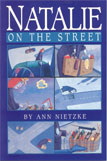 Natalie on the Street
by Anne Nietzke
Finalist for PEN West Nonfiction Award
An inspiring testimony and an explicit picture of homelessness, Natalie on the Street is a personal account of the author's relationship with a schizophrenic elderly woman who lived on the streets of central Los Angeles. Natalie's world is filled with filth, hunger, poverty, cold, debilitating mental illness, harassment, and invisibility, but Nietzke's gifts of companionship, conversation, food, clean clothes, and water for bathing become Natalie's first steps toward a life off the street. This explicit, painfully honest, and shocking picture of homelessness in America restores our sense of hope that one person can reach beyond our collective failure in compassion to create change.
Reviews:
"Nietzke courageously treats Natalie as something other than another ugly feature of the urban landscape, revealing, through her personal testimony, Natalie's human face." —Publishers Weekly
"Nietzke's writing is superb." —Library Journal
"In Natalie on the Street, Ann Nietzke plumbs to their very depths the possibilities of participant observation and human love. In this case, words are worth a thousand pictures." —Anna Lou Dehavenon, Director, Action Research Project on Hunger, Homelessness and Family Health, New York
Ann Nietzke is the author of Solo Spinout: Stories and a Novella (Soho Press) and Windowlight (Soho Press), which received the Los Angeles PEN Award for Best First Fiction.
.