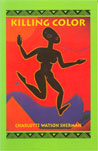 Killing Color
by Charlotte Watson Sherman
GLCA New Writers Fiction Award
Washington Governor's Arts Award
King Country Arts Commission Award
Seattle Arts Commission Individual Artist Award
From the author of Touch and One Dark Body come these haunting, hypnotic tales about the African American experience, stories that move into the realm of the otherworldly. As Colleen J. McElroy puts it in her introduction, "In the tradition of Buchi Emecheta, Simone Schwatz-Bart, Toni Cade Bambara, Isabel Allende and a host of other women writers who are storytellers, Charlotte Watson Sherman spins tales that are part magic, part song. In eleven stories of magnificent presence, Watson Sherman casts reflections of a world too often turned upside down by its own special vision, a world in which passions quicken and fold, resting palpably on the page."
Reviews:
"The stories are mythic and aphoristic, and each contains the key to the riddle of human behavior. ... The writing in this auspicious debut is musical and mesmerizing, carrying the reader along like a river flowing through deep canyons of feeling." —Publishers Weekly
"A shimmering, evanescent little book." —Seattle Times/Post-Intelligencer
"Symbols and mysticism permeate every page. … The writing in this slim volume rivets the imagination." —San Francisco Chronicle

Charlotte Watson Sherman received four separate literature prizes for Killing Color. She went on to publish Touch and One Dark Body and edited SISTERFIRE: A Black Womanist Anthology (HarperCollins).