In Chine with Harpo and Karl
by Sibyl James
"The Chinese government was offering me a free roundtrip, a modest salary, and housing…. And that is the heart of the tale…. My hotel's famous in Shanghai. My friends from home can send me letters with only the name, Jin Jiang Hotel, and in a city of six million, their news will find me." – Sibyl James, from the Preface and opening chapter.
This is a witty meditation on the social and political reality James encountered during that year spent teaching in Shanghai.
Reviews:
"Essays that educate and delight...a keen eye and a ready humor." —Publishers Weekly
"A fine and tonic introduction to the mysteries of pan-culturalism and the future. A terrific read. Sibyl James has given us a delightful and useful gift." —William Kittredge, author of Owning It All
"A quirky, tender travel diary that is a gift to the arm-chair faint-of-heart. Its short vivid chapters, juxtaposing the expectations of an American idealist with the gritty humanity of the Chinese people, describe a society painfully reconstructing its beliefs and desires. This is no ordinary travel book: James's style and voice shape her observations of underwear, spitting, bathrooms, temples, and tailors, so that the book is charged with an irresistible energy very much like love." —Bloomsbury Review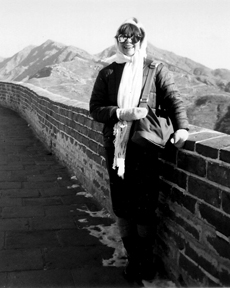 Sibyl James's most recent book is Ho Chi Minh's Motorbike: A Vietnam Travel Journal (String Town). Her other books include The White Junk of Love, Again (CALYX Books), Vallarta Street (Laughing Dog Press), and The Adventures of Stout Mama (Papier-Mache). She has a Ph.D. in English Literature from SUNY. A resident of Seattle, she is widely published in over one hundred literary journals.
.