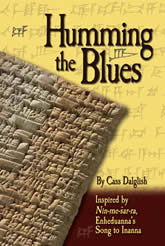 Humming the Blues: Inspired by Nin-me-sar-ra, Enheduanna's Song to Inanna
by Cass Dalglish
The first signed literature in the world is on cuneiform tablets written in 2350 BCE in Sumeria, and it is by a woman. Dr. Cass Dalglish translated the cuneiform of Enheduanna. She was a powerful Sumerian prince in 2350 BCE and her work, Nin-me-sar-ra, begged the god Inanna (who was the first to enter the underworld and return from the dead) for help overcoming an usurper.
Adopting a jazz aesthetic, Dalglish improvises on her translations; re-examining the cuneiform through feminist lenses. Enheduanna is not just any writer, she is the first identifiable poet to sign her writing. Lyrically translated from the original cuneiform by Cass Dalglish, the relevance of Enheduanna's Song to Inanna echoes across millennia as a testament to the timeless power of women's literature. Giving fresh interpretations to the originals, these poems form rhythmic riffs—like jazz musical improvisations—that carry the reader back to the lands of ancient Iraq during the time when gods were women.
"I found Inanna's story when I was on a journey as a spiritual feminist, seeking wisdom and the female divine…. I enrolled in obscure language courses…and began to study the first written languages…. I was convinced that I would eventually find texts that had been composed by women. I was following a hunch that back in the old days, when god was a woman, there must have been women who were writers and editors as well. And, of course, there were." —Cass Dalglish, from the Introduction
Reviews:
"This collection of poems, Humming The Blues by Cass Dalglish, can barely be described because it is such a one-of a-kind endeavor. Dalglish has set for herself an amazing task—learning Sumerian and translating texts 'written' in cuneiform by the poet-prince-priestess Enheduanna around 2350 bce. Such a translation would be welcome enough, but Dalglish has rendered this work in the most lilting and lyrical poetry that one feels the very breath and heartbeat of Enheduanna, the poet who 'wrote' this song to the goddess Inanna. CALYX Books is to be congratulated for bringing this fine book into a world which more than ever needs to be reminded of the long history of writing by women. There's nothing quite like Humming The Blues." —Eloise Klein Healy, The Islands Project: Poems For Sappho
"Concurrently the newest and the oldest ecstatic poetry in the history of the written word… pulses with energy, throbs with archetypal imagery and contemporary rhythms, leaves me breathless. Ten years in the study of ancient Sumerian cuneiform from Mesopotamia (present-day Iraq), Dalglish brings her exquisite sensibility to rendering these texts in English, giving us poems in the voice of high priest and poet Enheduanna, the first writer in recorded history to sign a name to her work. Here is a book like no other: an ancient story within a story: fresh and vivid and so utterly compelling, so convincing, one forgets – as the poet sings praises to the ancient deity Inanna, showing us their parallel lives–that Enheduanna is not one of our best, most mature, most exciting poets living today. Humming the Blues is nothing short of exhilarating. Trust me, it will sweep you away." —Ingrid Wendt, Oregon Book Award Recipient, Singing the Mozart Requiem
"This bold arrangement by Cass Dalglish of Nin-Me-Sar-Ra makes the original composition by Enheduanna resonate anew across forty-three centuries." Fran Hazelton, Stories from Ancient Iraq, The Enheduanna Society, 2006
"The world is bleak and devasted. Enheduanna, the first priestess, begins to sing the blues. In crying out to Inanna, the great goddess of Mesopotamia, the first priestess re-stories herself and the first recorded civilization. Poet/scholar Cass Dalglish throws the five thousand year old cuneiform pictographs onto the page with the masterful skill of Pollock, revealing the priestess' gasps, sighs, squiggles, howls and roars. An original, seething and shimmering work matching the depths and intensity of its content: darkness and rebirth.Crucial to be read in our times." —Diane Wolkstein, co-author of Inanna, Queen of Heaven and Earth: Her Stories and Hymns from Sumer
"With great care and great abandon, Cass Dalglish brings us story-song-poems that hopscotch from our present moment all the way back to ancient Sumer and return to us as 'fresh interpretations to familiar songs.' As intricately woven as tapestries, as wildly inventive and associative as hypertext, these poems are a timeless and contemporary reminder that there is always a 'big man in the sky' and that in the end, all we have is the voice, 'squealing like the bellows of a blacksmith keeping company with the dead.'" —Rachel Zucker, The Bad Wife's Handbook

"These are the Ur texts, literally: original writings committed to stone and clay thousands of years ago in Mesopotamia. We cannot help but think of Iraq, both the ancient world where Enheduanna made her poems and the world at war we know today. Now recast by Cass Dalglish, these translations recognize the simultaneity of possible meanings of words. Her own poetic intuition often pushes lines to move beyond words to that place where jazz scat gets its urgency. …Enheduanna, ancient poet stands as torch singer whose long drawn notes address God as Sister in detailed and intimate adoration. These are psalm-improvisations to Inanna, the 'womanly god,' the moon, the 'wild impetuous' and 'mother of all ritual.' These poems, lapis blue and saffron-perfumed, come through Cass Dalglish from ancient Enheduanna in the voice of a sister who carries ruined roses and woe across many centuries to stand against the ransacking of sacred places, to confront terror with a woman's strongest weapon: the force of life." —Heid E. Erdrich, The Mother's Tongue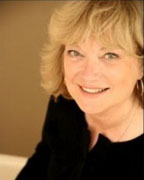 Cass Dalglish is a poet and novelist who studied Sumerian cuneiform to find women's earliest writing. She holds a PhD from Union Institute and is associate professor of English at Augsburg College. She was a finalist for the Minnesota Book Award for her novel Sweetgrass (Lone Oak Press) and is the author of Nin (Spinsters Ink).