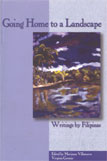 Going Home to a Landscape: Writings by Filipinas
Edited by Marianne Villanueva and Virginia Cerenio
Preface by Rocío Davis
This collection touches on memory, love, the sorrow of loss, and childhood joy and reflects the myriad changes faced by Filipinas struggling to maintain identity in the far-flung Philippine diaspora. These women challenge the traditional ideas of home and show how landscapes inhabit us. Among the 52 contributors are M. Evelina Galang, Fran Ng, Angela Narciso Torres, Merlinda Bobis, Luisa Igloria, Lewanda Lim, Catalina Cariaga, and Linda Ty-Casper.
Reviews:
"Brava! ... A wonderful new addition to the growing body of Philippine diaspora literature." —Jessica Hagedorn
"An evocative mèlange of history and memory, daily life and dream, spanning generations and continents, speaking powerfully to all of us who know what it is to be far from home." —Chitra Banerjee Divakaruni
"For these authors… the meaning in their lives and writing involves a state of mind that a Filipina sustains, more than place – specific birth or residency." —Bloomsbury Review
"It is very rare for me to read a book that resonates so close to my entire being…. Going Home is beautifully crafted, not just a collection ... writings like these not only serve as food for our souls, but provide insight into the human consequences of dislocation and dispossession." —Multicultural Review
"…offers a captivating range of the styles, forms, and concerns which emerge through the disasporic experience ... a powerful collection … a dynamic range of voices.… The remarkable achievement of this anthology is the sense of intimacy maintained despite the radical difference and distances which mark the Filipina diaspora." —Melus
"This collection of poetry, prose, and prose poem is amazing.... The voices in it vibrate across continents and can be recognized anywhere in their uniqueness." —Roshni Rustomji-Kerns
Marianne Villanueva is the author of Ginseng and Other Tales from Manila (CALYX Books). Her writing is widely anthologized. She was a finalist for the O'Henry Prize and received a Bread Loaf Writers Fellowship and California Arts Council Fellowships. She teaches in the Bay Area and recently gave a panel talk in Germany alongside the Vietnamese writer Linh Dinh on the subject of Southeast Asian Literature. Virginia R. Cerenio is the author of Trespassing Innocence (Kearny Street Workshop) and is published in a number of anthologies including Returning a Borrowed Tongue (Coffee House Press).