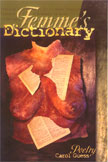 Femme's Dictionary
by Carol Guess
In this exquisite and powerful first collection of poetry, shortlisted for the 2005 Lambda Literary Award, Carol Guess has blended musical language with social commentary. She documents women in love and women at war, both with themselves and with each other.
Reviews:
"In the jazz of catastrophe and disgrace, defiance and outrage, Carol Guess has discerned a Pure Sound, a sparkling and simple tone. And she lifts it, she lifts it up into anthem.... This book is a triumph." —Donald Revell
"She writes about lesbian life, butch-femme relationships...in a way that lends one strength for the struggle and beauty of deep, genuine lesbian love." —Gwendolyn Bikis, author of Cleo's Gone and Your Loving Arms
"Femme's Dictionary takes place in a lineage with Minnie Bruce Pratt's We Say We Love Each Other, Chrystos' In Her I Am, and Adrienne Rich's sequence 'Twenty-One Love Poems'! Guess is a new lesbian voice who fulfills her longing to 'Kiss your thighs and call it making history!' —Lambda Book Report
Carol Guess is the author of two novels (Switch and Seeing Dell) and a memoir (Gaslight). Her poetry is published in Poetry Northwest, The Harvard Gay and Lesbian Review, Mankato Poetry Review, and Bakunin. Her novel Switch (CALYX Books) was a finalist for the American Library Association Gay Lesbian Transgender Fiction Award (now the Stonewall Award). She has a B.A. from Columbia University, as well as an M.A. and an M.F.A. from Indiana University. She teaches at Western Washington University and lives in Seattle, Washington.