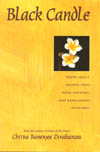 Black Candle: Poems about Women from India,
Pakistan, and Bangladesh
(Revised Edition)
by Chitra Banerjee Divakaruni
Gerbode Award Winner
In this newly expanded edition of poetry, award-winning author Chitra Banerjee Divakaruni paints moving, palpable portraits of South Asian women from remote Indian villages and immigrant women arriving in America in sumptuous and jeweled language rich with metaphor.
Reviews:
"[She] gives us the real grit, pain and joy of these women's lives.... It is heartfelt, perceptive, and full of delightful language." – Bakunin
"Divakaruni's very sensuousness…adds to the poignancy of the pictures she paints…. Deeply human, unabashedly feminist, this book is a testament to the women it depicts." – Booklist
"…straightforward, moving narrative poems.…" – The Bloomsbury Review
"Black Candle is a book that bears witness to the condition of women and to the condition of the world. Rich with colors, sounds, scents, with flowers and spices and fabrics and waters and sorrows and smoke, the world in this book is a necklace of bright pearls that burns the skin, yet is daily lifted up and owned, fastened to the body with a jeweled clasp: the compassion of Chitra Divakaruni's fiercely seeing heart." – Jane Hirshfield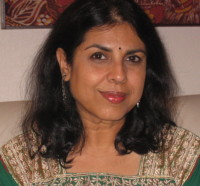 Chitra Banerjee Divakaruni is the author of the American Book Award-winning collection, Arranged Marriage, and one other short-story collection, four novels, two other collections of poetry, and two books for younger readers. She is published in over fifty publications and thirty anthologies. Among her many prizes are a California Arts Council Award, the American Book Award, and an O'Henry Prize. Originally from Calcutta, Ms. Divakaruni teaches at the University of Houston and divides her time between Houston and the Bay area.