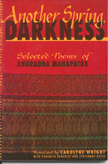 Another Spring, Darkness: Selected Poems
of Anuradha Mahapatra
Translated by Carolyne Wright, Paramita Banerjee, and
Jyotirmoy Datta
This is the first English translation of poetry by a working-class woman from West Bengal. Her poetic world is isolated, vast, impoverished – full of disturbing visions and surrealistic juxtapositions at the edge of myth.
Reviews:
"It's a rare pleasure to read translations of poems that convey them as poetry. These versions from the Bengali...evoke that thrill of recognition: that across culture and language we are encountering a great world poet. [Her] vision is simultaneously poetic and political, local and horizonless, moved by love and utterly unsentimental." —Adrienne Rich
"You cannot read these poems without being transformed by the hot breath of the gods, the eternal sweetness of flowers, and the soul of this powerful poet as she mesmerizes you.… This is one of the finest collections of poetry I have come across in recent years. You need this book."—Joy Harjo
"These are excellent translations of an unusual poetry, harsh and ambiguous and beautiful." —Chitra Banerjee Divakaruni
"The real India of Mahapatra's Another Spring, Darkness is truly human, emotionally moving, and rendered in a poetry as graceful as it is gritty." —Joseph Bruchac
Anuradha Mahapatra lives in Calcutta, India, and has published five collections of poetry, a book of prose, and a collection of essays. She is active in Calcutta political theatre groups and alternative bookstores and has published articles on theatre and women's issues, as well as poetry. She has three young daughters and lives with her family in South Calcutta. Carolyne Wright (translator) has published four books of poetry, two books of translation, and a book of essays. She has been a Fellow of the Bunting Institute of Radcliffe College, an Associate of the Department of Sanskrit and Indian Studies at Harvard University, and a Visiting Research Scholar at the Center for Research on Women at Wellesley College.