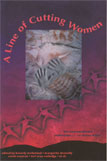 A Line of Cutting Women
Edited by Beverly McFarland, Margarita Donnelly, Micki Reaman, Teri Mae Rutledge, et al.
Spanning community, time, and place, A Line of Cutting Women showcases 37 fiction discoveries celebrating the first 22 years of CALYX Journal. CALYX is known for finding diamonds in the rough and providing a forum for overlooked gems. In prose spanning community, time, and place, these writers reveal the relevance, excellence, and vibrance of women's writing.
Reviews:
"What an extraordinary collection of worthwhile writing, brave in many cases, beautiful in almost all." —Grace Paley
"This impressive collection of first-rate short fiction is like a jeweler's tray of tidy, brilliant gems. Fine literary talent—some well known, others who will become so—has been assembled in a cross-cultural range from Japanese to Jewish, Native American to Korean , Mexican to Mormon. Anyone who still doubts the existence of a multicultural 'women's culture' will be forever changed by this book—and will have enjoyed a fine read in the bargain." —Robin Morgan
"A refreshing, rich, satisfying collection.... A great mix of voices including Jewish, Mormon, lesbian, Native American, African American, Asian and Mexican and styles ranging from the plain spoken to the magical/ mystical." —ForeWord
Beverly McFarland is CALYX's Senior Editor; Margarita Donnelly is the Director; Micki Reaman was the Managing Editor; and Teri Mae Rutledge was the Promotions Coordinator. The CALYX Editorial Collective is the recipient of many honors, including the 1996 Oregon Governor's Award for the Arts.