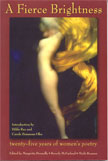 A Fierce Brightness:
Twenty-five Years of Women's Poetry
Edited by Margarita Donnelly, Beverly McFarland,
& Micki Reaman
A dazzling collection of important women poets of the past quarter-century collected from the pages of CALYX Journal. Here the obscurity women poets suffered during the twentieth century is pierced with an expansive, powerful joy. Among the 101 poets are Anna Akhmatova, Olga Broumas, Jane Hirshfield, Marge Piercy, Eleanor Wilner, Sharon Olds, and Wislawa Szymborska.
Reviews:
"A strong, diverse, group of poets" —The Oregonian
"These voices come from an invigorating range of experiences and cultural perspectives...wonderful...." —Tacoma News Tribune
"This is an extraordinary anthology of women's poetry that is both a landmark and a cause for celebration...powerful.... Highly recommended." —Tulsa World
"Excellence...is evident in the quality of the poems in this anthology.... I'm most impressed with the substantial number of fine poems about the effects of war and ethnic cleansing.... Politics aside, it's mostly just good poetry." —Austin American Statesman
Margarita Donnelly is a founding editor of CALYX and received the American Book Award for co-editing The Forbidden Stitch. Beverly McFarland is the Senior Editor of CALYX and co-edited A Line of Cutting Women. Micki Reaman was the Managing Editor of CALYX and co-edited Present Tense, which won a Pushcart Prize and a Bumbershoot Book Fair Award.