CALYX, A Journal of Art and Literature by Women
Winter 2011, Vol. 26:2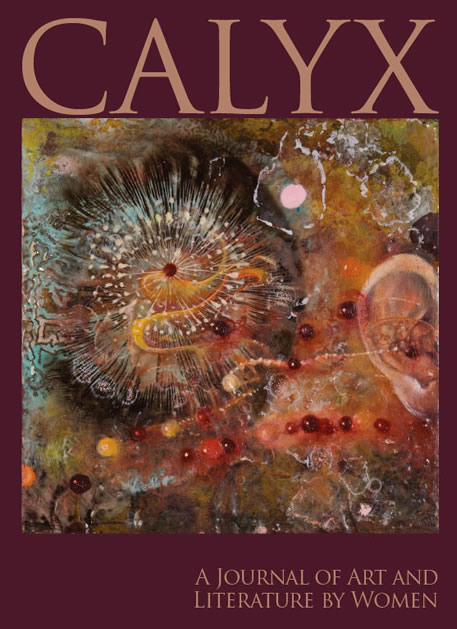 POETRY
Susan Landgraf "On and Off the
Reservation at
Tahola" (2010
Lois Cranston
Prize Winner)
Cindy Williams Gutiérrez "Miccacuicatl, or
Song for the
Dead"
"Xopancuicatl, or
Song of Spring"
Mary Makofske "Bee"
"For Peter
Rabbit, Whom
He Much
Admires"
Maria Ercilla "Leda and
Superman"
Judith Rose "Rabenmutter"
"Walking the Minefield, Balangk Commune, Cambodia"
Marianne Klekacz "You Notice it First in the Eyes"
"What Copernicus Knew"
Abigail Licad "Stef's Request"
"On Her Star Trek Fixation"
Jo Angela Edwins "Old Wives' Tale"
Dellana Diovisalvo "Weathering These Seas"
Mary Crosby "Hurricane Season"
Bonnie Nelson "Down by the River"
Linda Strever "The Language of Birds"
"It's a Girl"
Anna Belle Kaufman "Climacteric"
Susan Cohen "Break-in"
"Immigrant"
Julie R. Enszer "Hamster"
Terry Martin "Behind Lids of Half-closed Eyes"
Jessica Daigle "In a Magdalene Asylum"
"Shadows of Winter in the Laundry"
FICTION
Katey Schultz "My Father Calls me Pequeña"
Jane Kolenda "Planet Canada"
CREATIVE NONFICTION
Alisa Wolf "The Day Nana Almost Flew"
Susan Knox "Remember Me"
Naomi Kimbell "Asylum"
ART
Donna Dodson "Tumpeting Elephant"
Marlana Stoddard Hayes "Koan, Hearing" (cover)
"Equinox"
"Jade Pearls"
Janel Schultz "Hersolf & Other Half Amphibae One"
"Hersolf & Other Half Amphibae One (Detail)"
"Hersolf and Other Half Amphibae Two"
"Hersolf and Other Half Amphibae Two (Detail)"
Jameson "The Other Side"
"Trash Talk"
Dahlman "No Health Care for Illegal Immigrants"
"Landscape with Skull"
Betty LaDuke "Corn Spirit"
"Awakening"
"Africa: After the War"
"Africa: Reshaping the Land"
Donna Dodson "Elephant Princess"
NORTHWEST BOOK REVIEWS
Destiny Kinal "Fire and Ink: An Anthology of Social Action Writing,
edited by Frances Payne Adler, et al."
Carol Bosworth "How It Is: The Native American Philosophy of V.F.
Cordova, edited by Kathleen Dean Moore et al."
Kristin Bergsman "Crow Planet by Lyana Lynn Haupt"
Donna Henderson "Six Lips by Penelope Scambly Schott"
BOOK REVIEWS
Anna Williams "Her America: A Jury of Her Peers and Other Stories: Susan Glaspell edited by Patricia L. Bryan and Martha C.
Carpentier"
Molly Beer "The Relenting: A Play of Sorts by Lisa Gill"
Zoë Brigley "Infinite Indifference: Other Poetries by U.K. Women Poets edited by Carrie Etter"
Penelope Scambly Schott "More by Barbara Crooker"
Heather Taylor Johnson "Red Sugar by Jan Beatty"
Kim Bridgford "Small House Breathing by Claire Zoghb"